What is a Garden Railway, Anyway?
In the summer of 1995 we took a weekend trip to ride behind L&N 152 at the Kentucky Railroad Museum in New Haven, Kentucky and visit Mammoth Cave National Park in Mammoth Cave, Kentucky. As we exited the interstate on our way home we observed a listing on the marquee of the Drawbridge Motor Inn and Convention Center located near our home at the time for the 11th National Garden Railway Convention Public Day. We had no idea what a garden railway was at the time, but "railway" had to mean trains so we decided to attend.
We paid five dollars a piece, were given a convention program and entered the dealer hall. I was so excited I was beside myself. I could combine trains with another interest of mine, gardening and the size of the trains was amazing. But seeing my first garden railroad "closed the deal." Several of the garden railroads were open. We picked two railroads close by to visit, Ray and Ruth Faragher's and John and Martha Lange's Clear Creek District.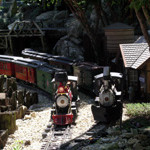 The Lange's Clear Creek District was our first garden railroad and I immediately decided this was for me! The next year I joined the Greater Cincinnati Garden Railway Society and began attending meetings. Coincidentally, the first meeting I attended was at the Lange's. At this point I was starting to read and study and plot.
Our First Large Scale Train
A few months later I was at the dentist reading a train magazine as usual when my dentist mentioned his son had a train set he was no longer using and wanted to know if I was interested. I inquired as to the scale and when I found out it was large scale, I quickly arranged the sale.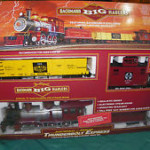 For $35 I now owned a Bachmann Big Haulers Thunderbolt Express G Scale Electric Train Set (including a ten-wheeler, gondola, and bobber caboose, as well as a circle of track and transformer) and a Bachmann tank car assembled from a kit. Soon the train was home chasing itself around the small circle of track that came with the set. The tank car was painted a garish red white and blue. The other cars were out of the box. As my wife, Pam and I were watching the train circle the track, she mentioned we need a bigger loop. What did my ears hear? More track? Soon we were planning a 6 X 16 foot loop of track in a bed off the side of our patio. With a few plants and a load of dirt we had our first garden railway and I was plotting a bigger railway along the north side of our fenced backyard. When I showed Pam my plan her reaction was a bit of shock. There just wasn't enough room on the north side, why not build a larger railway expanding on our current site and the south side of our backyard. It didn't take any arm twisting to get me to agree. The planning was underway again for larger railway consisting two loops, a pond, trestles, and bridges, but there was a biting question…what to model? Freelance? Prototype? Once thing was certain, I wanted a narrow gauge steam powered railroad, no smelly diseasels for me! Since a majority of narrow gauge railways are based on western railroad, having visited Colorado I can see why, I was set on narrow gauge in the east. After all, Kentucky alone had several narrow gauge railways. After lots of pondering I settled on a freelanced railroad, the Kentucky and Northern (a twist on Northern Kentucky were we live).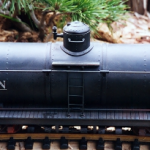 The poorly painted tank car was repainted black and a simple K&N adorned the side of the tank. The K&N now had its first car and a new water tank built from the Piko water tank kit I got as a Christmas present.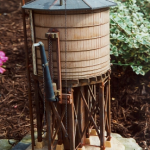 With a track plan in hand we were off to Indianapolis for a weekend trip to visit the Indianapolis Children's Museum, the Indiana Transportation Museum, and a visit to Watt's Train Shop to buy track. We thoroughly enjoyed our visit to the Children's Museum. I especially appreciated their fine train collection, viewing the Rueben Wells, a 0-10-0T locomotive built to conquer the 5.89 percent grade out of Madison, Indiana. Unfortunately, we visited before Paul Busse and Applied Imagination worked their magic recreating Madison, Indiana including Larry Koehl's scratchbuilt model of the Rueben Wells in G Scale. Our trip to the Indiana Transportation Museum included a ride from Noblesville to Atlanta, Indiana on their lovely Monon train powered by their F units and their fleet of Budd stainless steel passenger cars. Finally we were on our way to Zionsville less than an hour north of Indianapolis. We spent over an hour visiting the store purchasing Aristocraft track and LGB switches for the K&N. With Indianapolis behind us we were on our way home to start our new garden railway.