Introduction
As Mark Horovitz, founder and current editor of Garden Railways once wrote, our railroad is a journey rather than a destination.
The Journey Begins
The journey began over 30 years or so when I received my first train, the ubiquitous Lionel 027 starter set.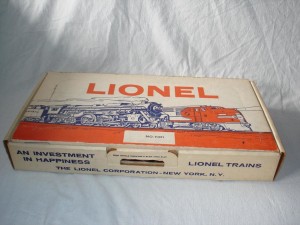 Like any other young boy, I ran and ran my Lionel Atlantic locomotive around and around the oval of three-rail track pulling three red flatcars and a Lionel caboose. I can only imagine how much my parents paid for my train, but it must have been dear considering our economic status at the time. After a while the trains were stored away in the box as my interest turned to learning to play the piano and trombone, frogs, toads, model airplanes and rockets. In high school I found trains again. One of my best friends had a Santa Fe based HO layout in his garage and the bug was back. I sold my Lionel stuff (a decision I regret to this day) to buy HO and was soon spending my allowance on HO locos, cars, track, etc. and in a short time had a 4X8 Louisville and Nashville inspired layout. When high school ended the layout came down as college again took me away from model trains.
There were brief encounters with trains. I have pictures of my wife, Pam (then girlfriend) and me when N&W's 611 came to town.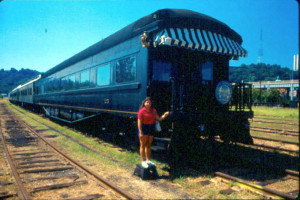 One day before we were married, Pam and I were sitting in my parents' living room in Covington, Kentucky watching TV when I heard a steam whistle. Before she knew what had hit her, we were speeding through Latonia chasing a steam excursion running down the L&N main line.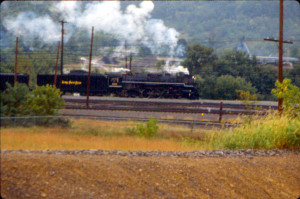 At that point she learned that my love of trains was not extinguished, but smoldering deep below, like a volcano, just waiting for its day to erupt.
Other than that brief train-chasing incident, the volcano lay quiet until that fateful day in January of 1994 when we just happened to go to Johnny's Toys to visit the birthday castle for my son, Zach, who had just turned two. Those of you not from the Cincinnati area and not familiar with the birthday castle, each year, Johnny's Toys sent out a key to children for a free toy from the castle. It is a tradition that was place as long as I can remember in my 50+ years. Unfortunately, Johnny's Toys has closed.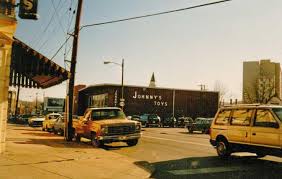 As fate would have it, the weekend we made our yearly visit was the weekend of the annual train show at Johnny's. Both the Johnny's Toys in Latonia and Green Hills had(the Green Hills store closed in 2008) an extensive train department and held a train show each year in the winter months. The show featured modular layouts, clinics and the annual clearance. Bargain hunters crowded around the tables each year ready to scramble those great deals. This is the one time when we men (and a few women) get to act like the stereo-typical shopper climbing over each other to get to the item. In reality it's not quite that bad, but you had to be quick to get what you want. I missed the bargains that year, but decided to purchase a copy of Model Railroader to as I said to myself, just see what is happening in the hobby. Before I knew it I was buying cars, then a locomotive and before I knew it, I was building a layout. The Mrs. was not too happy at this point, mainly because I did not share my rekindled passion for model railroading, in other words the volcano was starting to smoke, but it was Pam who was ready to erupt! After some smoothing over and negotiations the railroad was moving along. Of course it does not hurt to have a young son to get the trains for.  The layout was in the garage and I had to move the car out to work on it but I had a railroad started.
In the meantime, I joined the Louisville and Nashville Historical Society and the National Model Railroad Association, was attending conventions and meetings, doing some rail fanning and of course reading as much as I could get my hands on. In some ways, I am obsessive. Once I get involved I dive into the pool head first. Fully drenched I started involving the family in my train activities.
Stay tuned for more…