Update 5-18-15
Success!!! I steamed up the climax on Allan Pantle's track yesterday and ran it for about 15 minutes. Running much better now. I didn't run in reverse, but optimistic that will be fine as well. Still…a lot of trouble for a $1800 loco.
Update  4-10-15 – The climax arrived back from Accucraft yesterday. I steamed her up and ran her on rollers. The loco ran fairly well in forward, but at half speed in reverse. After inspection, the drive shaft on the front truck was obviously bent again (probably from screwing the trucks back on). They couldn't have tested the loco and not noticed. I removed the draft shaft, straightened and then replaced the shaft. I didn't have time to steam her up again. That will have to wait until I can get out to my track. I'm optimistic that she is ready to go. In Accucraft's favor, the did replace a bolt that had sheared off on the bottom, but to send it back with a bent drive shaft was inexcusable. Stay tuned…
Update – I sent the trucks back to Accucraft for service. I got them back and tested them on my loco while running on rollers. Seemed to run better so I was hoping it would run well at our upcoming steam up.
She would run well in reverse on the larger radius curves but would bind on the smaller (6.5′ radius) curves. I decided to send the entire loco back to Accucraft for service.
I contacted Cliff at Accucraft and he mailed me a UPS shipping label to return the locomotive. UPS picked it up two days ago.Stay tuned for further updates…
Original post…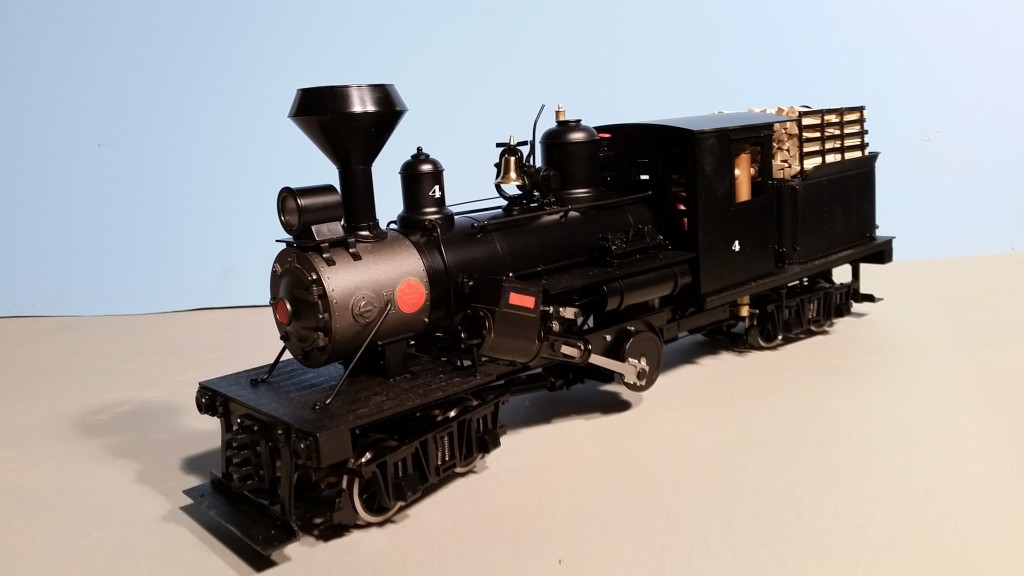 I have wanted a live steam Climax locomotive ever since I saw an Aster Climax years ago. When Accucraft came out with their version, I knew I had to have one; mine finally arrived via UPS. When Accucraft released the two models I set my heart on the straight stack, unlettered model. When it came time to purchase I could not find any for sale in the states and settled on the Mich Cal #4 instead. Now that the model has arrived I am very happy with #4 although there is an issue with the particular locomotive I acquired but more on that later.
The loco arrived in the original packing box containing the usual Accucraft red box. Much nicer than the boxes my mogul arrived in.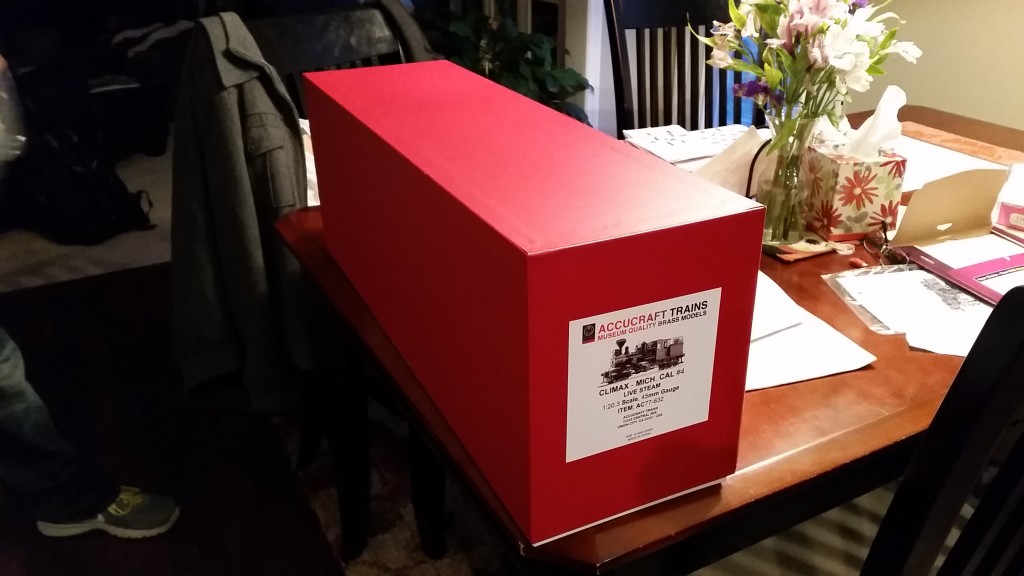 The locomotive came well pack in foam, tape and tissue paper all attached to a piece of plywood.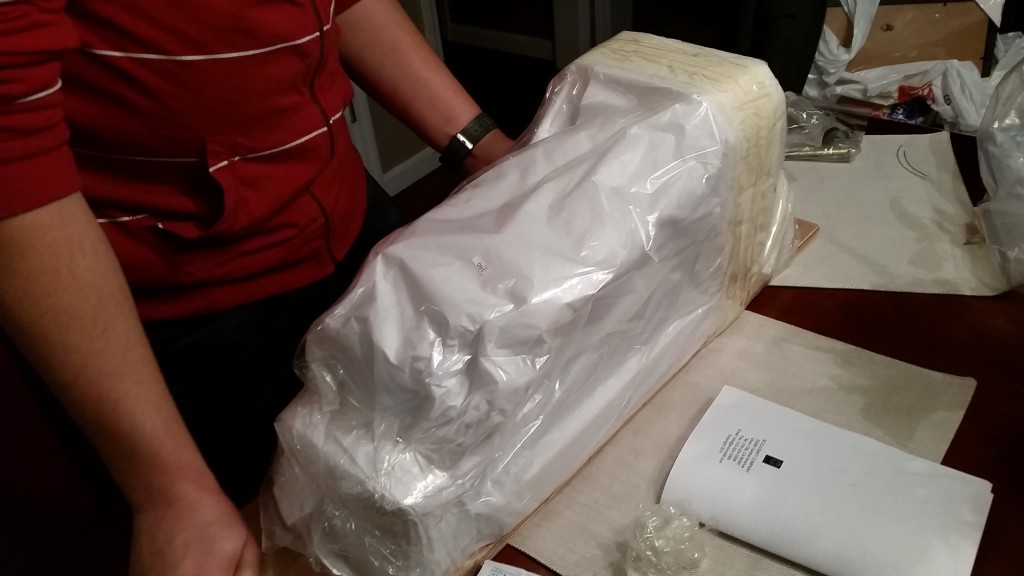 After unpacking the model I began to inspect the new loco. I attempted to move the Johnson bar (reversal) unsuccessfully. After applying lubrication to the valve and carefully using a pair of needle nose pliers I was able to free the valve. After working the linkage and valve back and forth, the reverser worked properly. After I oiled around, adding water, steam oil and fuel, I steamed up the loco. While the loco steamed up easily, there was obviously something wrong with the drive train.
Once the loco cooled, I drained the tender and inspected the drive train. Unfortunately, I discovered both drive axles were bent. After some research online, it seems that the trucks are bent when the trucks are attached to the loco at the factory.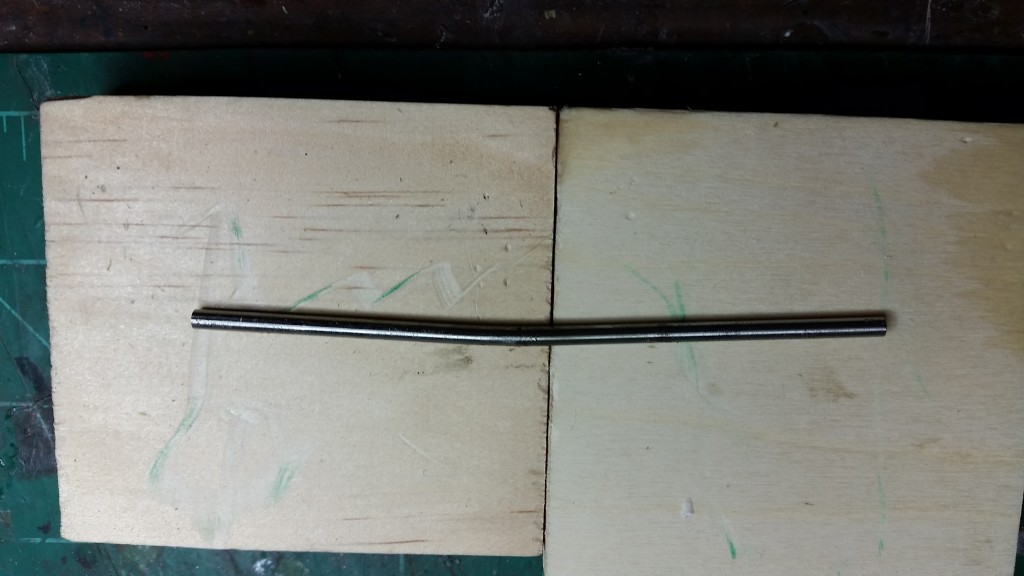 I removed the drive axles and straighten them although I could not get them completely straight and true. I requested drive axles from Accucraft.
On Saturday, January 24th I steamed up #4 at our club (GCGRS) layout at EnterTRAINment Junction and shot a short video.